4CH CCTV Security Night Vision Camera SD Card Mobile DVR RJ45 Port Security AVI Tracking MDVR
Mobile DVR have an enormous number of benefits for fleets. Not only do they monitor unsafe and inefficient driving behaviors to prevent accidents and keep up productivity, but they also secure drivers, assets, and cargo as they travel from point A to point B and back.As cargo is being loaded and unloaded, it can leave individuals vulnerable to theft. Live video footage from external cameras, attached to the outside of vehicles or on trailers, can be monitored during these moments so that assistance can be sent immediately if it's needed. Additionally, it can help you see where any potential damage to vehicles and cargo occurred and put preventative measures in place to prevent it from happening again.
We're a professional supplier and manufacturer of vehicle monitoring products.We have all kinds of solutions for the vehicles.We mainly provides SD Card Mobile DVR,HDD MDVR,Bus People Counter and Passenger Counter.With HD electronic rearview mirror system,HD multi-screens display system,vehicle radar system,ADAS system,fatigue driving alarm system,advanced driving assistance system and digital wireless transmission system in China.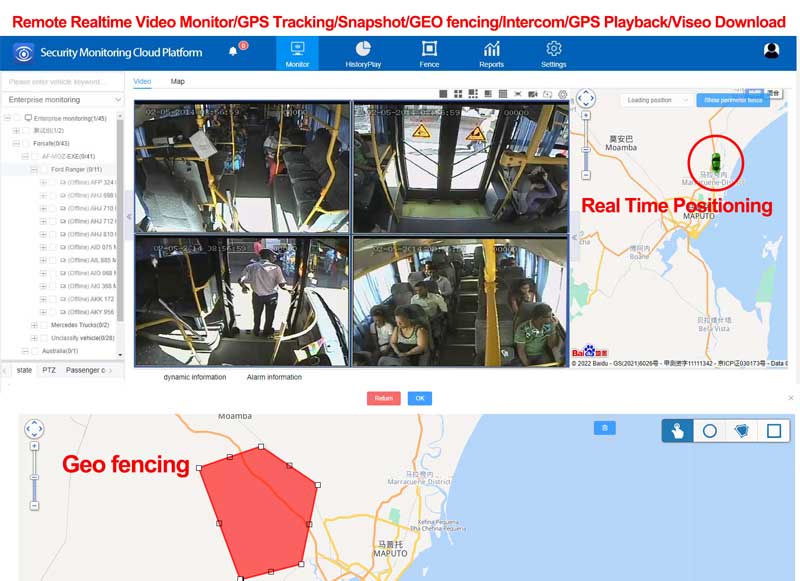 Vehicle Mobile DVR can also assist with vehicle recovery should theft occur. Our product offers live streaming that lets you tap into what's happening in the moment and provide authorities with access to this video footage to take appropriate action, so that you can get your most valuable assets back where they belong.
Maintaining the security of your sites is crucial to ensuring unauthorized individuals don't gain access to sensitive areas or expensive equipment. Alongside driver identification, you can get vehicle access control. This ensures that barriers to sites or other locations only open for vehicles that are known to the company and have been registered to enter a particular location.
Maind Features:
1. Multiple recording modes: record upon startup, timed recording and triggered recording;
2. Special file system: can be played with Special playback software, supporting 1-channel or 4-channel or 8-channel synchronous playback;
3. Data storage, supporting a 2.5" hard drive and 1 SD card with the capacity up to 128G; supporting dual-stream mirror image video recording, SD card recording upon loss of hard drive, supporting hard drive heating, applying drawer-type hard drive box;
4. Wide voltage design, 9-36V DC wide voltage input, suitable for various vehicles; DC 12V/2.5A output;
5. Rapid startup, capable of entering normal working mode within 25 seconds after startup; supporting on/off with key switch, timed on/off and delayed on/off, etc.;
6. Optional functions:
7. 3G wireless transmission;
8. Wi-Fi wireless transmission;
9. GPS, G-sensor acceleration sensor, with precise time correction;
10. IP calling;
11. Dialing;