8CH 720P AHD Camera Indoor Monitoring People Counter Mobile DVR Flowing Statistics Public Bus Passenger Counting System
Passenger Counter system. It's normally used for buses to count passenger numbers when people get on/off vehicles and display vehicle passenger numbers in real-time.As it helps determine the number of passenger in a bus every line every day.Having a people counter video camer (passenger counter or door counter,as some call it) installed makes it possible for the company to obtain valuable data on passengers — Which in terms helps the bus fleet management.To decide how many buses will be use everyday,the most reasonable departure timing and frequency of departures better!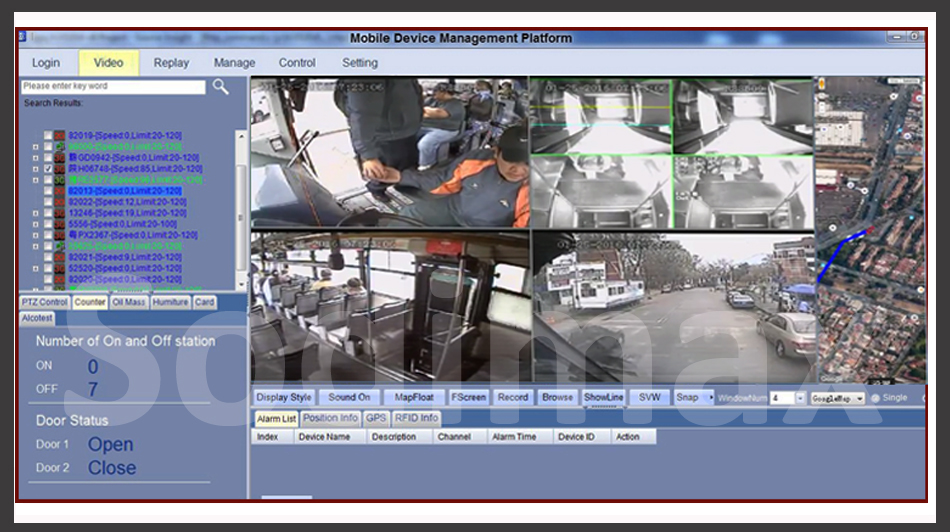 People counting video camera work by identifying people walking through the areas covered by the camera.Although many businesses already have security video cameras in place to cover every corner of their business,people counting video camera are different in that they focus on the foot traffic and actively count humans, including those in large groups, to get an accurate foot traffic count,which widely use in bus.To collect the number of passengers every day and the number of passengers a time period.When tracking passenger traffic,you would want a solution that is going to be as accurate as possible.And people counter video camera are more accurater than Infrared sensor,Thermal sensor and Image Sensor.
Our Sodimax is one of the most professional Mobile DVR supplier in china. Soidmax Mobile Vehicle DVR enables to real-time remote monitoring and management.The data will be sent to server for live updating through GPRS or to 3rdparty application equipment (need customization) by the serial port RS232.Our MDVR with UPS patent,Uninterrupted Power Supply Protecte for MDVR.And the device can work with our ADAS and Driver Status Monitoring System and thus realize more effective vehicle surveillance and fleet management.