School bus safety issue has been a hot issue of social concern.The driver has not strong sense of responsibility,and usually overloading,or speeding ect.Will not only student parents to worry about,but also to school and Departments of Traffic Management.For that,we can be prevented this accidents by installing a car video recorder,to protect the safety of the students traveling.Driving the process will be driving a school bus route video and preserved in the event of a dispute as evidence to held responsibility.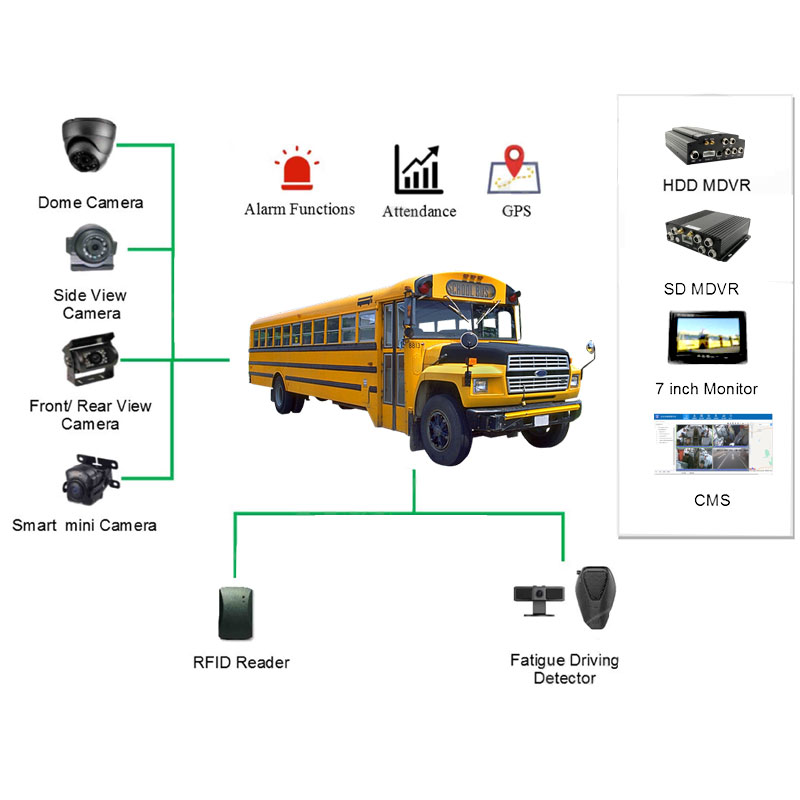 The major function of the school solution:
1、Supports 8 CH AHD 720P/ 1080P cameras,to monitoring the whole situation in the school bus.
2、With RFID to record driver and student attendance.

3、Industry-leading CPU with powerful processing power.

4、Supports hard disk and SD card recording. Maximum 2TB provides over 2 months of H.265 technology recording.

5、Rugged Shell: cast aluminum housing,data loss prevention.
6、A security box for backing up all the data in extreme cases.

7、Built-in 3G/4G/WIFI module,video/alarm can be uploaded to the fleet management platform,easy to manage.
8、Built-in G-sensors can monitor driving behavior

9、Use software platform to monitor routing

10、Parents monitor mobile app.